Frequently asked questions about adult changing tables
An adult changing table is a significant investment, and not just for financial reasons. Whether for yourself, your patients or a family member you take care of, it is a product you'll use regularly—so it needs to be safe, comfortable and easily accessible for the individuals using it and the space where it's located.
Don't know where to start? That's okay! We've compiled a list of frequently asked questions about adult changing tables to help guide your search.
First things first: what is an adult changing table?
An adult changing table is a changing station for people who require help with toileting. While the purpose of an adult changing table is similar to that of a baby changing station, the former is built to accommodate older children and adults of varying heights and weights. Since many of those who need toileting assistance are non-ambulatory, adult changing tables are often height-adjustable and designed for safe transfers from wheelchairs. You can find a variety of products available with different features, such as wall-mounted adult changing tables that conserve space or mobile adult changing tables that can be moved from room to room.
Who uses an adult changing table?
Adult changing tables are used by individuals with a range of disabilities and medical conditions that require them to receive toileting assistance, such as muscular dystrophy, Parkinson's disease, paraplegia, autism or those recovering from a stroke. People who use adult changing tables are often wheelchair users, senior adults, or children, teens and adults with special needs. The population that uses adult changing tables is diverse, and therefore, CAN-DAN carries a range of equipment built to meet every need.
Where are adult changing tables used?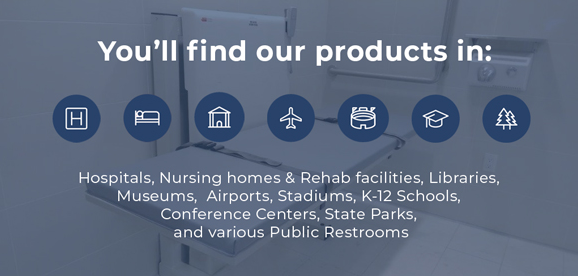 Adult changing tables are used in private residences, where people receive care at home. They are also used by nurses and other aides at schools, hospitals, and other facilities like nursing homes and assisted living residences.
While you can sometimes find adult changing tables in public spaces like airports, government buildings, and museums, this is seldom the case and often prevents the people who need them from leaving their homes. Legislation regarding adult changing tables in public buildings varies throughout the US, but fortunately, awareness of the issue is spreading and gradually influencing change. Unsure of the regulations where you live? Contact your municipal and/or state offices to find out where adult changing tables are located, and whether there are laws pertaining to their availability.
Why do we need adult changing tables?
There are many reasons why the use of adult changing tables is imperative for caregivers and people who receive toileting assistance. The best way to understand them is to consider the alternative: changing your patient or loved one on the floor or a bed. At least when you're at home or in a professional setting like a medical facility, the bed is a sanitary place to conduct the changing process. However, it's not at an ergonomically correct height, and as a result, could lead to injuries to the caregiver. The same is true of changing on the floor, and unless at home, is particularly unsanitary and undignified.
An adult changing table, on the other hand, can be lowered for easier transfers from a wheelchair and raised to a safer, more comfortable height for caregivers to help with toileting needs. It is designed for easy cleaning and therefore is more sanitary for the person being changed. Moreover, it's overall more dignified and respectful than changing on the floor.
What types of adult changing tables are available?

There is a wide range of adult changing tables available to meet each individual's needs. Some of these include wall-mounted changing tables; wall-mounted changing tables that fold up when not in use (these are especially useful in rooms that are smaller or multi-purpose); and mobile or portable changing tables, which are freestanding and can be moved from room to room.
You can also choose adult changing tables with specific features to fit your needs. For example, some changing tables come with side rails or waist straps for extra security, which are especially useful for individuals who tend to move a lot during the changing process; showerheads, which are convenient for those who also need help with bathing; and antimicrobial upholstery, which may decrease the risk of infection.
How do I know my adult changing table is safe to use?
When you invest in an adult changing table from CAN-DAN, you can rest assured that your equipment is top quality. Our changing tables include safety features like locking mechanisms and fire-retardant mattresses, and are designed to ensure the safety of patients and their caregivers. Our products can hold patients of varying weights, so make sure you check the weight capacity before you purchase. Several parts, such as the mattress, tabletop and plug-and-play hand control, are available for replacement if needed.