Why schools need adaptive desks
You arrive to class on your first day of school, and the room fills with excited chatter while the other students take their seats. The bell rings. You ask your teacher where you should sit, and her eyes frantically scan the room to find exactly what you'd suspected: there is no place for you. She rearranges the desks to grumbles from students who'd already chosen their seats, assigning you to the back corner. Provided a desk you can't use, you settle on taking notes in the binder on your lap. It's awkward and uncomfortable, but you don't want to make a fuss.
This situation is unfortunately common for wheelchair users, since traditional school desks are not designed with adequate space to accommodate a wheelchair beneath them. While some schools provide tables for non-ambulatory students instead of desks, others simply fail to meet ADA requirements, which dictate that at least five percent of classroom tables must be wheelchair-accessible. This is unacceptable, especially when there is a simple solution: investing in adaptive desks.
What is an adaptive desk?
An adaptive desk is a desk designed to accommodate a variety of students with different needs, including students using a classroom chair, alternative seating system or a power wheelchair. Can-Dan's ERGOtable, the original adaptive desk, is built with ergonomic cutouts of various shapes and sizes, as well as height-adjustable legs with wheels that lock in place.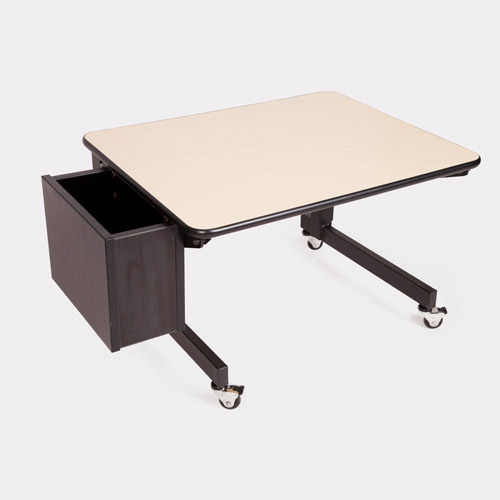 Why should schools have adaptive desks?
There are many reasons why having adaptive desks in every classroom would improve the learning experience. Here are just a few.
1. They improve academic success.
It's not hard to imagine that lacking a school desk—a basic need in the classroom that most students expect to be met—would be a distraction to learning. Multiple studies show that appropriate classroom furniture has the opposite effect, increasing students' attention span, improving behavior and alertness. Furthermore, it allows wheelchair users and students with other special needs to have access to the same resources as their peers, removing the awkwardness and embarrassment of feeling different. This simple step toward equality can increase students' self-esteem and enhance their overall attitude toward learning, giving them the confidence they need to participate in class and achieve success.
2. They promote inclusivity and equality.
Having accessible furniture like adaptive desks in the classroom sends an important message: all students are welcome, regardless of their differences, and are entitled to adequate resources and respect. Reviewing a survey they conducted entitled, "Blending Mobility Devices into the Classroom," Think Inclusive writes, "Nearly half the survey respondents mentioned desks as an issue. Each one used a wheelchair in school. Answering 'When you think about your time in the classroom setting, what comes to mind?' Erin M. Diericx said 'I remember awkwardly parking my electric wheelchair among the desks.''' Providing adaptive desks would prevent students from this unnecessary embarrassment and create the sense of belonging at school, helping them feel equally capable and deserving of an education as their peers.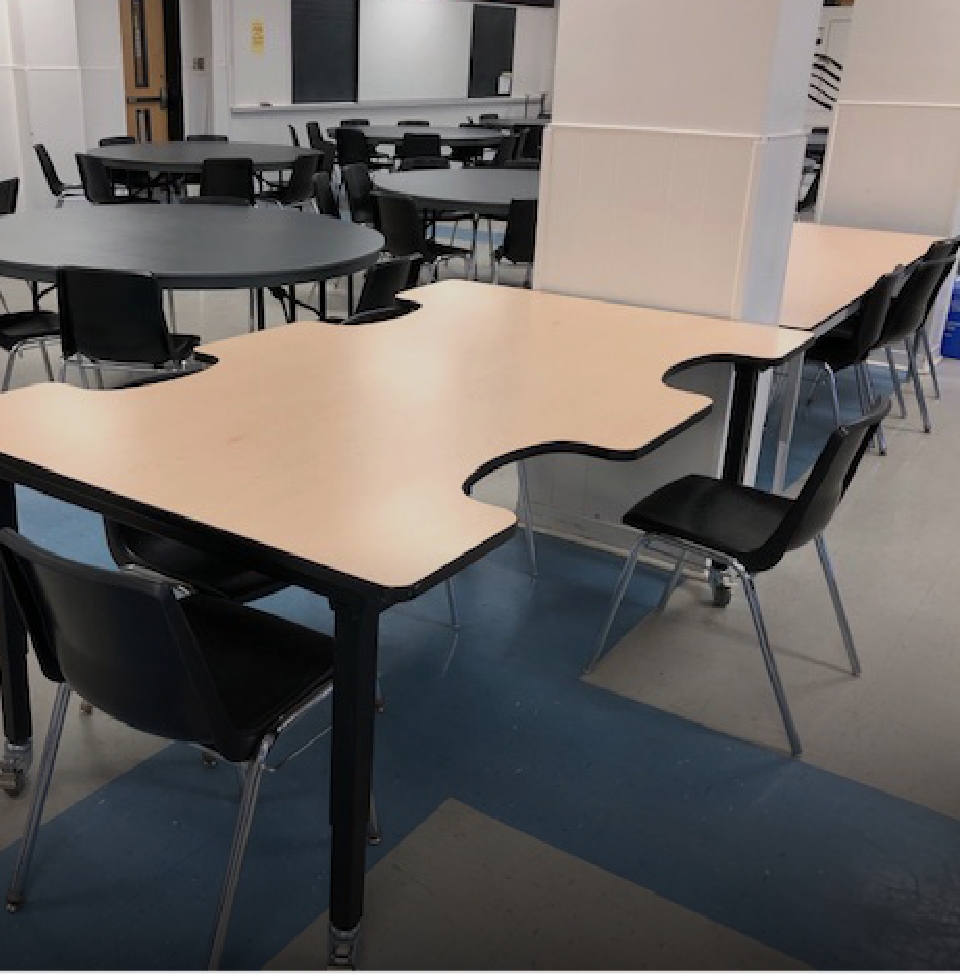 3. They're safer and more comfortable.
Without the proper classroom furniture, students who use wheelchairs are forced to work on assignments in their laps, or position themselves near a desk and lean forward to complete assignments. This is not only uncomfortable, but could easily lead to falls or muscle aches from poor posture. Adaptive desks like the ERGOtable are specifically designed with correct ergonomics in mind, and are therefore safer and more comfortable for students. Because the legs are adjustable, the desk can be positioned at the ideal height for each individual—a useful feature for students of varying heights, not just wheelchair users. Additionally, the table's optional ergonomic cutouts allows students to be appropriately positioned and supported in the desk.
4. They increase flexibility in the classroom.
Every teacher knows the benefits of classroom flexibility and encouraging movement throughout the school day. According to a 2011 pilot study by Danielle M. Ivory, University of Puget Sound, "Previous research has found that increased attention and work completion is associated with the use of controlled movement or dynamic seating options." Adaptive desks with wheels encourage movement, making it easier to rearrange furniture for group assignments and other activities. This is especially true if all classroom desks are adaptive, not just those of students with special needs.