Custom Accessibility Solutions: Changing Tables for Adults
For over 30 years, CAN-DAN has been the leader for Changing Table solutions. 
We believe accessibility is more than a parking space. Our focus is to change your environment, building accessible spaces that are inclusive with solutions developed to adapt to you. Adult changing tables, also called nursing tables, are important home and facility equipment designed to facilitate increased accessibility for individuals and their caregivers. 
A change table can be used for a variety of purposes, such as for changing clothes, incontinence aids, bandaging, personal care, therapy and so on. Its versatility makes them a common feature in hospitals, assisted living homes, retirement communities and even private residences. Similar to baby changing stations, they are also being increasingly used in schools, libraries, public stadiums, airports, and almost anywhere with a public restroom.
We build and offer unique solutions to fit your needs, in your space. Regardless of the use for our adult change tables, we aim to serve greater accessibility to our clients. CAN-DAN's equipment also supports caregivers with ease of use and sanitation features that provide optimal working experience.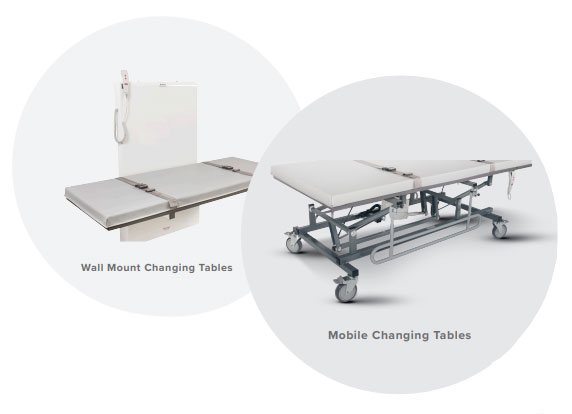 There are a variety of designs to choose from when deciding which adult changing table model best matches your needs, but we know that no space is the same and every individual is unique. That is why CAN-DAN allows you to build your own changing table, so you can find the perfect fit.
Our CAN-DAN change tables provide a solution for each person with more customization options and a host of available accessories. We provide quality solutions that do what they need to do, allowing you to live your life.
*Our solutions are compliant to code and certified for Canada & USA.
Types of Adult Changing Tables
---
The Wall Mount Changing Table provides a safe place for caretakers to provide care in a number of settings, such as the school or home. The table is power height adjustable (powered by a 115VAC to 24VDC actuator) to help with ease of transfer and assists both user and caregiver.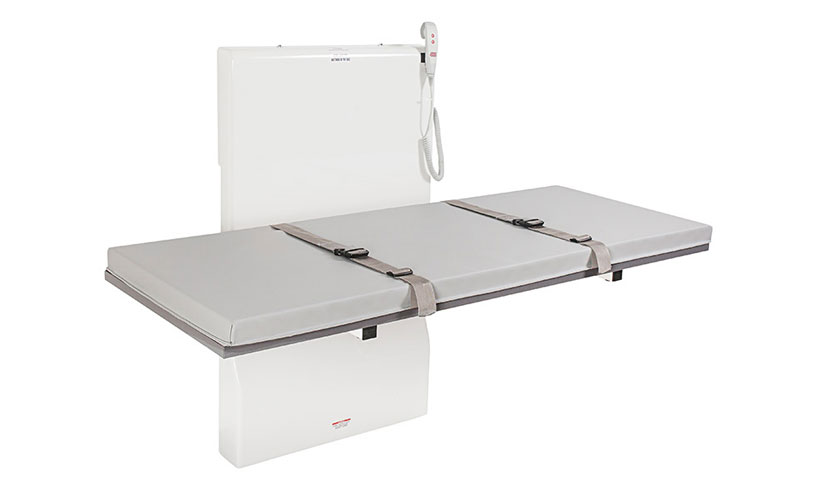 Height-adjustable changing tables are valuable for locations that accommodate multiple persons-of-care. Caregivers can easily manage the platform height to meet the needs of different body types and sizes. The Wall Mount adult changing tables are also more convenient for facilities that have plenty of space and frequently use the change table for a high volume of patients.
When it comes to design, our primary objectives are focused on the users. They include safety, comfort, ease of maintenance and cleaning. Suitable for an environment that requires a space with a changing table that is allocated to a dedicated & reserved space, available throughout the day. With a 2" removable mattress, two adjustable belts for safety, and a hand control that is fastened to the front cover for easy access, the Wall Mount Changing Table is developed to be ergonomic and safe.
The CAN-DAN Fold Up change table is perfect for multi-purpose or small spaces. Caregivers can fold it up to make space and fold it down to use as needed.
The changing table was designed to be safe and secure for both the caretaker and the user with a locking mechanism built into the table. This allows it to be locked up for storage when not in use. Foldable changing tables are popular in homes and small facilities where space is limited and the table can be easily stowed away. A lockbox is also provided to securely store the hand-control and overall ensures that the equipment is protected.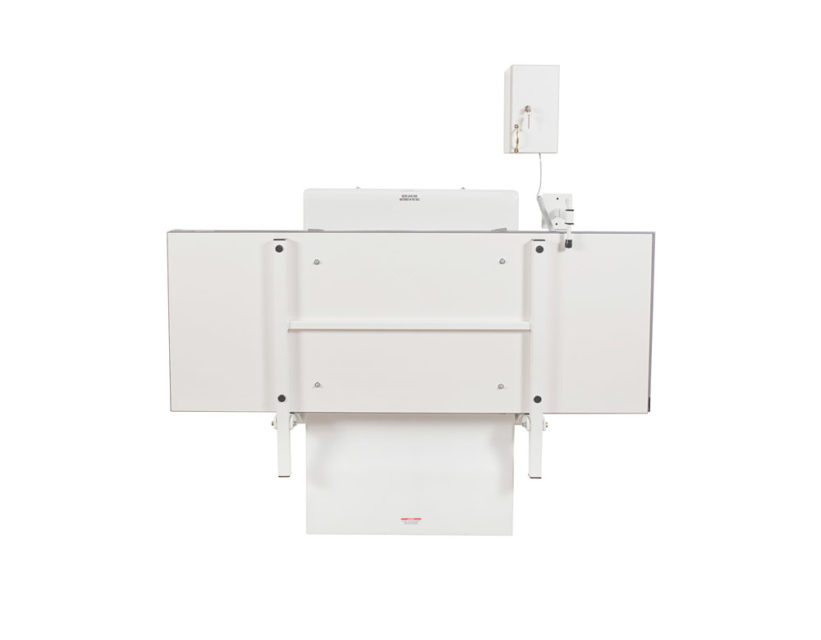 Our CAN-DAN Fold Up comes with a 2" removable mildew resistant, latex-free, lead-free, phthalate-free and fire retardant vinyl mattress and two safety belts and a front cover made of acrylic for easy cleaning. This folding change table is an ideal solution for schools and other pediatric facilities. In a school setting, the table can be locked, the equipment is secured to ensure no other child can utilize the table and less chance of unintended misuse and/or vandalism. We provide a lockbox to securely hold the hand control, away from any other curious "fingers" (hands) that should not be operating the change table. Protect your asset and be sure that the change table is functioning and operational at all times.
Do you have a really tight space? Unsure about the wall structure? Ask us about our custom sizes and custom solutions.
The CAN-DAN Mobile Changing Table is our mobile solution designed to fit your needs, wherever they take you. This versatile, easy-to-clean, and safe-to-operate solution is proven to be reliable for different sizes of rooms. The change table fits through big or small doorways so you can move it from one room to the next, one client to another.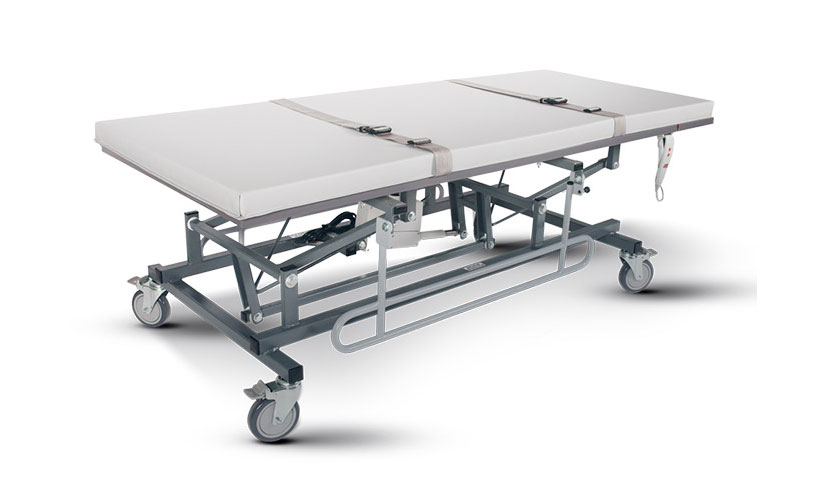 These tables are better suited for facilities with small spaces and infrequent use. Additionally, mobile adult change tables are often kept on wheels and can, therefore, also have the added benefit of being used as an emergency mobility stretcher for evac purposes.   When there is a firedrill, don't get stuck in the middle of someone's personal care and not enough time to transfer, safely evacuate the building (school) with a mobile change table.
Your Environment. Your Space.
Our change tables provide a solution for each person.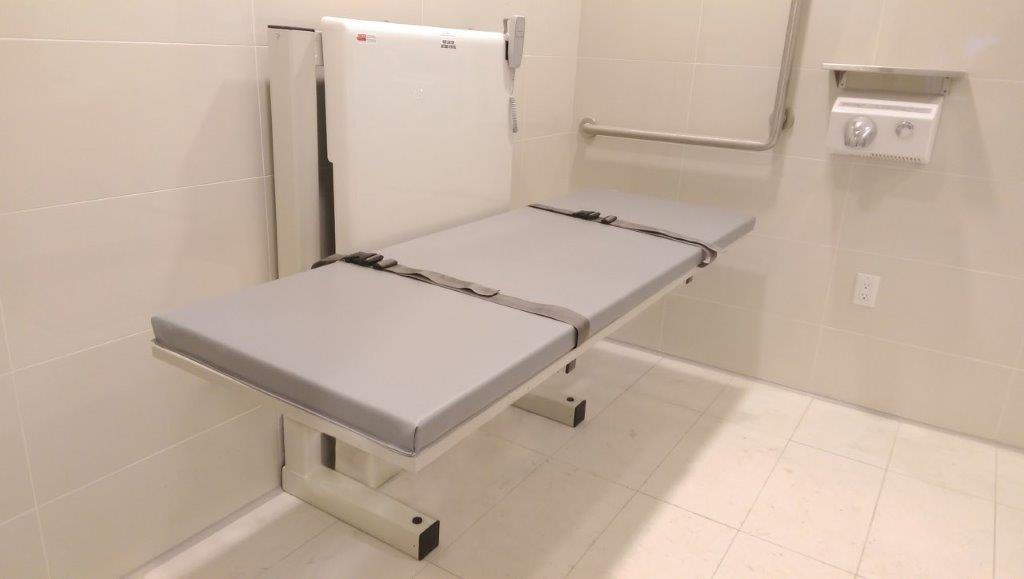 We strive to provide the right solution for the right environment. Talk to us about our CAN-DAN solutions.
What is an adult changing table and how is it different from a baby changing station?
Baby changing stations are primarily used in public restroom facilities to give parents or guardians space to safely change their infant's diapers. These types of changing stations have a similar function as adult changing tables.
Adult changing tables are a special type of equipment for older children and adults who have additional accessibility needs. Unlike baby changing stations, special needs changing tables can accommodate more weight, supporting up to 450 pounds, or close to 204 kilograms.
Change tables are often used for people who have a physical disability or medical condition requiring toileting and dressing assistance, such as those with Parkinson's Disease, dementia, paraplegia, muscular dystrophy, or are on the autism spectrum.
Other users include:
Children, teens, and adults with special needs
Handicapped adults and wheelchair users
Senior adults
Adult changing tables also provide a comfortable, safe, and secure space for caregivers to help a person with special needs by providing assistance at a more level position, preventing back strain or other injuries. 
Where are adult changing tables used?
In addition to being helpful for home care, adult changing tables are often used by nurses and other aides at schools, hospitals, and long-term care facilities such as assisted living or rehabilitation clinics.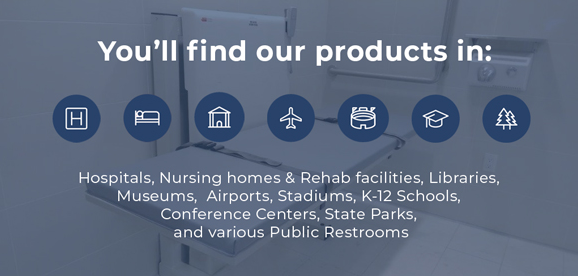 However, CAN-DAN also believes in creating accessible public spaces in your community, beyond locations that cater to special needs adults. Many museums, attractions, public venues, and airports are now installing changing tables in their restrooms, discovering that adult changing tables create an attractive environment for visitors whose disabilities may limit their leisure opportunities.
CAN-DAN has developed unique features for the requirements of public facilities to provide comfort, safety, and dignity to special needs individuals or disabled adults, regardless of what space they are in.
How can you make a difference?

Contact your municipal office to ask where the nearest public adult changing tables are located in your municipality. If they don't have an answer—or your town lacks adult changing tables altogether—then it's an issue that should be addressed. Write to your local officials. If you don't receive a satisfactory response, start a petition and bring an article to your town meeting.

Advocating for greater availability of adult changing tables, as well as information on where to find them, could increase public awareness of this issue and lead to positive change—so that caretakers and people with special needs can enjoy outings (and road trips, even!) with family, worry-free, just like everyone else.
Canada has consistently introduced policy over the last 20 years to make public spaces more accessible to the population. The United States has recently followed Canada's lead and brought about its own legislative initiatives around Universal Changing Stations to do the same.
As a manufacturer of accessibility solutions for both the U.S. and Canada, CAN-DAN is proud to continue its service to this growing movement and create greater accessibility and care right in your community, like we have been since 1986. 
Who uses changing tables? 
Adults with muscular dystrophy, Parkinson's disease, paraplegia, or those recovering from a stroke will likely need some level of assistance with toileting and dressing. Hospitals, long-term care facilities, and other special needs locations, like schools, implement change tables to ensure a welcoming space to easily care for patients.
In this way, adult changing tables help with safer transfers, comfortable positioning, and a secure space for both the patient and caregiver. Adult change tables also provide a comfortable, secure, and hygienic surface for patients.
What are the benefits of CAN-DAN's adult change tables?
Unlike residential or hospital beds, adult changing tables are designed specifically for caregiving use. They are customized to benefit weakened or disabled individuals and their caretakers.
Our adult changing tables are ergonomic. From caregiver to user, our customizable change tables maximize safety, comfort and accessibility.
Our adult changing tables are sanitary. With intentionally designed features, cleaning and maintaining hygienic conditions are easy with CAN-DAN's custom change tables.
Our adult changing tables are safe. With locking mechanisms, fire-retardant mattresses, and more, our tables are designed specifically to ensure the safety of the patient and their caregivers.
Our adult changing tables make people feel safe and welcome. Today, when it comes to changing in most public facilities, we use what is available. This may be the floor in a public washroom, a larger public stall or the back of our personal vehicles. These are situations that we must manage but it does not make life any easier. We can do better. Having a changing table in public spaces is a great way to let elderly or disabled individuals know that you care about their needs and safety.
Service friendly, proven reliability, minimal service time, "zero" down time, parts available for replacement including mattress, tabletop, plug & play hand control.
Building accessibility defines who we are.
CAN-DAN's quality solutions are both safe and functional.
---
FAQ's
Below is a list of frequently asked questions and answers about adult changing tables.
Why can't I just use a bed for changing my patients instead of an adult changing table?
Unlike a bed, adult changing tables or nursing benches are height adjustable to help avoid the strain of lifting heavy patients. By design, these tables are also easy-to-clean in order to maintain superior hygiene.
More often than not, a change table will be the safer option for both the caretaker and the patient than a bed will be. With our custom models, CAN-DAN caters each adult changing table to your needs and your environment.
FIRM SURFACE is easier to change on and less likely for any accidental spills, do not launder and wipeable surfaces
What is the advantage of an ergonomic changing table?
Adult changing tables, which are mostly designed to be height adjustable, benefit both the caretaker and the user. Safe and secure transfers are accommodated in the lower setting, and then able to rise for a comfortable working position. This greatly reduces the strain associated with lifting a 120 + pound user. The table operation is easy to execute for aids of all statures.
Additionally, patients may be able to assist caregivers in transfers themselves with the adjustable feature, maintaining a higher degree of dignity. Other safety features, such as safety rails or hygienic accessors can also be added for more functionality. Ultimately, ergonomically designed adult changing tables help prevent unnecessary injury for both the patient and the caretaker.
How do I choose the best adult changing table?
At CAN-DAN, we strive to provide the right solution for the right environment. Our change tables are intentionally designed with features that will adapt to your space.
Consider parameters, such as mobility and area, to select the best adult changing table for your needs. For instance, models like the Wall Mount Changing Table may be larger and less mobile, installed for facilities where there is frequent use in one place. Models like the Wall Mount Fold Up Changing Table can be safely and easily stowed away when not in use to save space in high-traffic areas.
Other models, such as the Mobile Changing Tables, are more versatile and can be moved from one room to the next. These are typically better suited for a single-person use environment, like the home, as well as smaller spaces for more infrequent use. CAN-DAN's mobile solution fits through big or small doorways and comes equipped with locking casters for when in use.
Knowing your table's measurements ahead of time will help you incorporate the changing table into your facility smoothly. All of our products come with specification sheets right on our site so you can decide if it's the right fit for you. 
---
CAN-DAN is a manufacturer of accessibility solutions for home, school, and in your community.
Our portfolio of solutions is designed to equip spaces with solutions that care, to empower and assist users and their caretakers to take on daily life with confidence.
Want more information? Contact us or find a dealer near you.