< Back to Pressalit Changing Tables
Pressalit Model 1000 Changing Table
The Model 1000 series provides a range of quality changing tables with a PVC coated canvas cover, suitable for a wide range of applications in
public or private places including showering and changing table.
Available in 2 sizes: short (1400mm) or long (1800mm)
330 lbs weight capacity.
Includes a safety rail.

MODEL 1000 POWER HEIGHT ADJUSTABLE
Caregivers can easily set the height of the bench, enabling them to obtain the correct working position. This ensures safe showering and changing for the user as well as minimizing the risk of back injury for the carer.
The integrated gas cylinders enable the bench to be folded out of the way when not in use to maximize floor space in front of the unit.
Hand control, 2 button includes a wall mount for hanging at desired height.
MODEL 1000 FIXED
Mount the 1000 Fixed at desired height, folds up against the wall. A solution to consider for your project
Saves spaces, simple install. An accessible space.

Available in Canada
Request a Quote
chat with us
Sizing
Outer measurements 765 mm x 1800 mm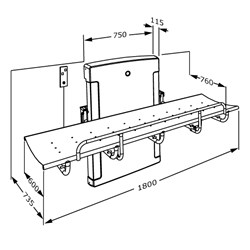 Features
Foldable
Maximize space to fold the table in toward the wall.
Safety rail
Length 1400 mm, for retro-fitting on nursing benches R8400,
R8401, R8404 and R8405.
Did you find what you were looking for?
Contact