< Back to Pressalit Changing Tables
Pressalit Changing Table Model 2000 and Adult Changing Station
Changing Table
Shower and changing table 2000, powered, height adjustable 700 mm; from 300 mm -1000 mm, with wired hand control.
The Pressalit 2000 changing table has a low starting height for easy transfer onto the bench as well as a perforated stretcher, which enables the water to pass through to the collection tray underneath.

The flexibility of the height adjustable nursing bench gives advantages to both the user and the carer, as the correct working height is equally
important for the carer's safety and the user's comfort.

Available in Canada
Request a Quote
chat with us
Sizing
Product Dimensions
Outer measurements 900 mm x 1800 mm.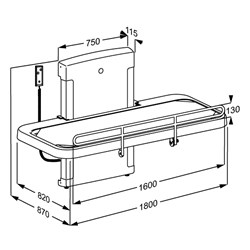 Features
Foldable. Incl. safety rail and water collection tray with integrated outlet.
Did you find what you were looking for?
Contact